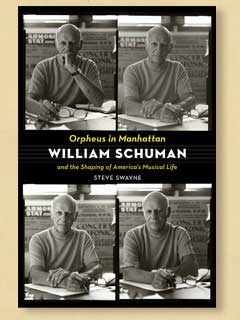 Steve Swayne, author of Orpheus in Manhattan, is Associate Professor of Music at Dartmouth College. He is also an accomplished concert pianist and an award-winning composer.
Buy the book
About the book
The musical landscape of New York City and the United States of America would look quite different had it not been for William Schuman (1910-1992). The founding of the Juilliard String Quartet; the presence of the Juilliard School alongside the Metropolitan Opera and the New York Philharmonic Orchestra; the establishment of the Film Society of Lincoln Center; the creation of the Fiorello H. LaGuardia High School of Music & Art and Performing Arts; the development of recording opportunities for contemporary American composers; the presence of his own compositions on the programs of orchestras and choruses throughout the world: Schuman had a profound influence upon the artistic and political institutions of his day and beyond.
Orpheus in Manhattan: William Schuman and the Shaping of America's Musical Life traces that influence. Born into a middle-class German-Jewish family, Schuman did not have his first serious musical experience until his late teens, after which he began to sharpen and focus his musical skills. His own unconventional path toward the concert hall — his studies almost exclusively occurred in the New York City area, and his "instrument" was public oratory — inclined him to propose unorthodox ways to acquire musical literacy. First as an instructor and choral conductor at Sarah Lawrence College (1935-45) and then as president of the Juilliard School of Music (1945-61), Schuman expanded the boundaries of musical education. As president of Lincoln Center (1962-68), the performing arts found a champion and visionary. Winner of the first Pulitzer Prize in Music (1943) and recipient of numerous awards, honors, and commissions, Schuman composed music that is rhythmically febrile, harmonically pungent, melodically long-breathed, and timbrally brilliant.
This comprehensive biography of Schuman draws heavily upon Schuman's letters, writings, and manuscripts as well as other archival materials. Filled with new discoveries and revisions of the received historical narrative, Orpheus in Manhattan repositions Schuman as a major figure in America's musical life.
Advance praise for Orpheus in Manhattan:
"A good book makes you feel the ground moving under your feet – 'I'll never see (or hear) that particular thing the old way again.' Orpheus in Manhattan fulfills that requirement massively."

— Wayne D. Shirley, Senior Music Specialist (Emeritus), Music Division, Library of Congress
"With extraordinary archival diligence and fascinating interpretative insights, Steve Swayne draws Schuman out of the shadows. In the process, he not only reveals much about a core composer, but he also illuminates the history of major musical institutions that were led by Schuman, notably Lincoln Center and The Juilliard School."

— Carol J. Oja, William Powell Mason Professor of Music, Harvard University
"Steve Swayne's compelling biography is a magisterial account of a fascinating life and of a tumultuous moment in this country's arts. It's by far the best biography of an American musician in a long time!" —

J. D. McClatchy, Yale University